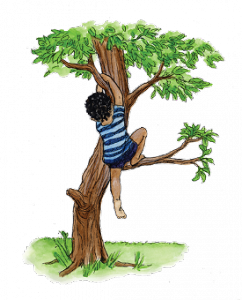 Hesperian Health Guides develops its materials for communities with limited access to health care. To ensure the conditions and concerns of the people who will use them are at the center of the book development process, our materials are field-tested around the world by grassroots community organizations, health providers, clinics, and individuals. By presenting accurate and actionable health information in a simple, heavily illustrated style, Hesperian makes health information accessible to all, even readers with minimal formal education.  We are working to further increase access to our materials through our interactive digital resource center. You can read more about each of our projects by clicking on the links below:
Helping Children Live with HIV
The New Where There Is No Doctor
Hesperian Digital Commons
Open Copyright Policy
Building Partnerships
Gratis Book Program
Helping Children Live with HIV
Helping Children Live with HIV is our new manual for community health workers, family members, and caregivers and includes information on the prevention of HIV infection in babies, community-based pediatric diagnosis and treatment, and care of HIV-positive babies and children with strategies for addressing the psychosocial and emotional needs of children affected by HIV. This resource is sorely needed in many areas of the world where the spread of HIV has made children especially vulnerable. We are currently working on printing and distributing this book to the people who need it most.
The New Where There Is No Doctor
Hesperian is developing a new 21st-century edition of our hallmark publication to address global health challenges that were not present when Where There Is No Doctor was written. This resource will retain the comprehensive approach, practicality, and accessibility of the original book while integrating new information on the mostly preventable and treatable diseases that continue to take an enormous toll on the world's poorest people.  View advance chapters of the New Where There Is No Doctor.
Hesperian Digital Commons
The Hesperian Digital Commons is an ongoing collaborative project to re-imagine our widely known and trusted print materials through the innovative use of digital technology.  While continuing to publish books, we now offer our content in a variety of new formats, along with digital tools that further empower people to adapt and share our materials on line. The Digital Commons includes the HealthWiki; free downloads of resources in 30 languages; and our first mobile application.
Open Copyright Policy
Hesperian's pioneering open copyright policy facilitates the translation, adaptation, and wide distribution of Hesperian health guides and resources. Hesperian titles have been translated into more than 80 languages, exponentially increasing the reach and impact of this lifesaving health content.
Building Partnerships
Hundreds of partners from around the world work with us to develop, update, distribute, translate, and adapt our health guides – we could not do what we do without them! Funders help to facilitate the development of new health resources. Organizations of all sizes — along with individual health providers, activists, and community members — provide critical feedback that ensures that our materials are culturally appropriate and medically accurate. And our technology partners play a key role in the ongoing development of the Hesperian Digital Commons. Together we work to make health for all a reality.
Gratis Book Program
Gratis Books is a donor-supported initiative that provides free books to health workers who cannot afford the cost of purchasing and shipping Hesperian resources. The program is run entirely by volunteers, ensuring that all donated funds go directly to purchasing and sending resources.