Hesperian Health Guides reaches millions to improve health and save lives. Available in over 85 languages, our materials are used in 221 countries and territories, from Afghanistan to Zimbabwe. Our impact is measured by the millions. Millions of books in circulation. Millions of lives saved.
Beyond the numbers, we're making an impact one person, one family, one community at a time. Every day, we get letters from people around the world sharing their stories of becoming empowered to take action and improve the health of their communities: a neighbor helping a mother safely deliver her baby, a community health promoter stitching the wound of an injured worker, a women's group learning how to make a simple water filter that prevents the spread of diarrheal diseases.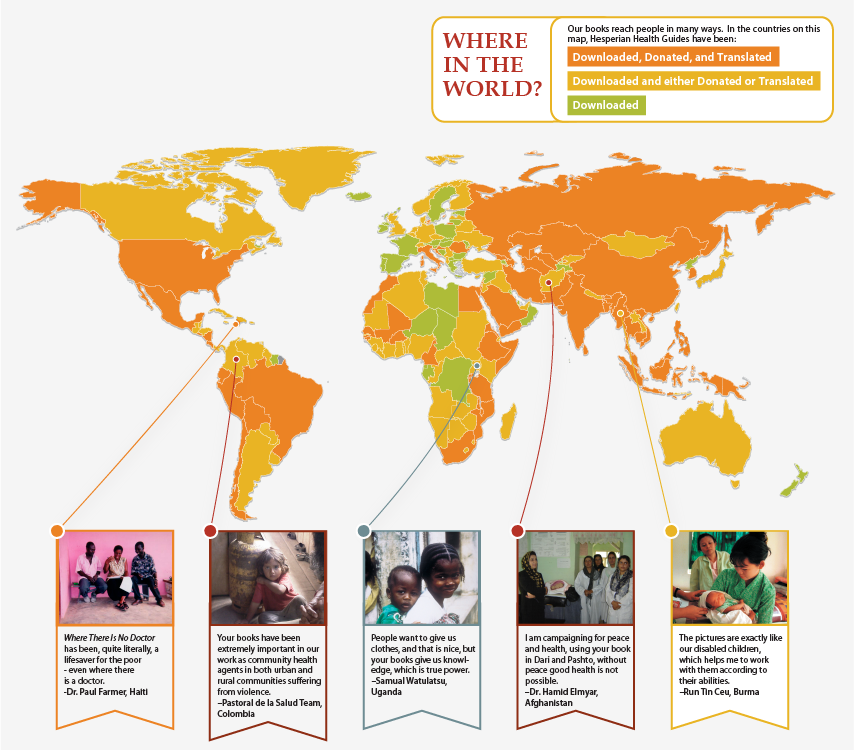 Hesperian resources are used by community health workers, Peace Corps volunteers, missionaries, teachers, health educators and community organizers to improve health around the world. Hundreds of government agencies and nonprofit organizations rely on Hesperian to provide practical and comprehensive information that moves communities to take action on a wide range of health issues – from disability rights to women's health, from protecting local ecosystems to training the next generation of health workers.
We work with hundreds of partners who help us update and test materials to ensure they are accurate and easy-to-use, and take all this work to scale with a paid staff of under 20. For over 40 years, Hesperian has worked for social justice, to create a world where everyone has access to knowledge for action and is empowered to take action for health.